2023 THEME: DECODING THE FUTURE
This year, we want to show how the codes that society has agreed upon for so long can be broken, and how we can build equality despite them.
Society runs on codes that govern how we see things, how we work, how society functions. But these codes aren't equal for everyone. And, when inequality is coded into our society, we must de-code it, break the norms, and re-write them for a more equal tomorrow. 
MAIN EVENT // 29 NOVEMBER 2023
PAST EVENT // LAUNCHED WEDNESDAY 8 MARCH 2023
PAST EVENT // THURSDAY 23 MARCH 2023
PAST EVENT // FRIDAY 9 JUNE 2023
PAST EVENT // THURSDAY 6 JULY 2023
PAST EVENT // THURSDAY 21 SEPTEMBER 2023
WEDNESDAY 29 NOVEMBER 2023
Fuel your passion and unleash your potential at TEDXAmsterdam Woman's 2023 Main Event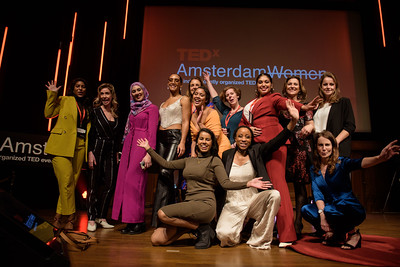 Become a partner at our upcoming TEDx events and support women presenting their ideas and creating positive change in society and in the workplace.

An evening full of


ideas worth spreading.

food, drinks & networking.

inspirational speakers.

exciting entertainment.