The stage for new, undiscovered Ideas Worth Spreading.
Every year TEDxAmsterdam Women hosts a conference where we want to give the stage to individuals with little or no experience in public speaking. Coming from all walks of life they are given the opportunity to present their ideas on stage in 5 minutes. During these 5 minutes they strive to convince the jury and the audience of their TED-worthy speech. The winner will then get the chance to stand on the main TEDxAmsterdam Women stage. Each year Talent Night and Main Event have a theme, where we look for great ideas relating to this.
In addition to the theme we look for talks that touch on one of the TED pillars – Technology, Entertainment, Design, Global Issues, Business / Entrepreneurship, Art & Music, Science or Sustainability. Please note that TEDxAmsterdam Women is a non-commercial, non-political organization, so it is not permitted to refer to a commercial business – there will be no selling from the stage, no political agendas, no proselytizing –  only reliable, good science.
Your idea should be new or surprising. It can challenge a pre-existing belief. Or it can be a great basic idea with a compelling new argument behind it. An idea isn't just a story or a list of facts. A good idea takes evidence, and observations and draws a larger conclusion. 
A few questions you could ask yourself are: Is my idea new? Am I telling people something I'm pretty sure they have not heard before? Is it interesting? Will my talk inspire people? Think about how your idea might apply to a room full of varied kinds of people. Who might be interested in it? Is it factual and realistic? If you answered "no" to any of these questions, try to refine your idea. Also, consider the solution – is there one? What's the status quo? What's the problem with the status quo? If you are presenting new research, make sure your idea is backed up by data that has been peer-reviewed.
On September 30th, 2022 we hosted our fifth edition of Talent Night. Where our 10 finalists presented ideas relating to our 2022 theme: "Press(ing) Issues: fact or fiction" Our winner Malou van den Berg  presents on the Main Stage on the 1st of December 2022. 
Talent Night 2022 highlights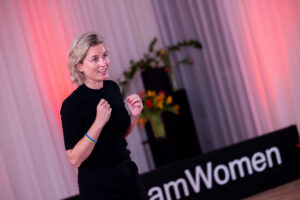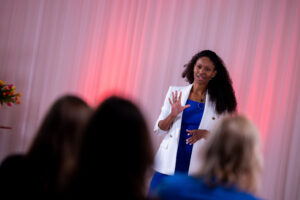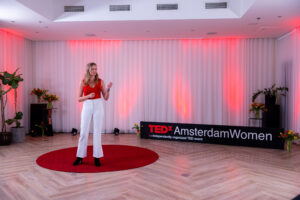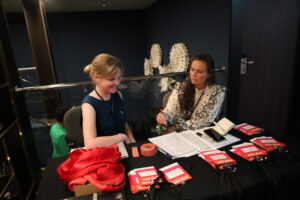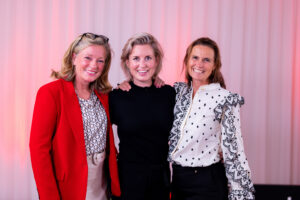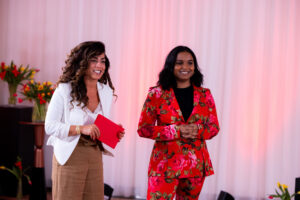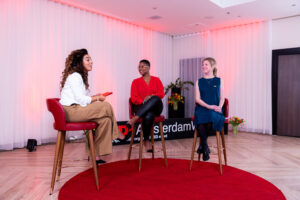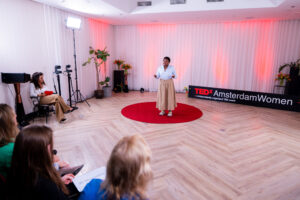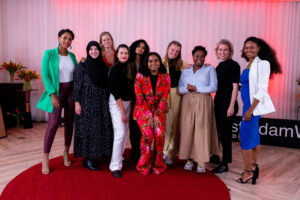 Keen to apply for Talent Night?
Follow us on Instagram @tedxamsterdamwomen to get updates on 2023 Talent Night application dates, ticket sales and more.
Tips for a successful TEDx Talk
Dream big. Strive to create the best talk you have ever given. Reveal something never seen before. Do something the audience will remember forever. Share an idea that could change the world.

Show us the real you. Share your passions, your dreams and also your fears. Be vulnerable. Speak of failure as well as of success and connect with your emotions.

Make the complex plain. Don't try to dazzle intellectually. Don't speak abstractly. Explain! Give examples. Tell stories. Be specific. And make sure you check your sources and data. Oh and skip any commercial, political or religious agenda.

Make the story worth listening to. Connect with your audience, make them laugh! Make them cry! Take them on a journey. And make sure your audience feels motivated or more self-aware after your story.

Rehearse and prepare. Don't read your talk. Notes are fine, if necessary. But rehearse a lot and practice out loud and time it!
Max 2 minutes
Tell us about your ideas (if you have written down your pitch, please do not read it)
Show your presentation skills
Show your personality
Create a new video in a calm environment with good sound (don't send us a video of you presenting at a different event)
What's your idea worth spreading? Develop your idea to be one clear sentence.

Answer all the questions included on the application form and make sure they are no longer than 3 sentences. It will help you to focus on your idea and answering the questions should support it.

Remember, even if you are telling a personal story – where are you going with it? What's your idea? How will it inspire others