I am Eva Cleven
Host
Introducing Eva Cleven, our Pitch Night host. Eva Cleven is a radio DJ & presenter. Currently, she is a DJ at FunX, with her own show on Friday and Sunday afternoon. She is also a presenter for NTR's Het Klokhuis. In 2016, Eva won the Philip Bloemendal prize for upcoming journalistic talent and in 2017 she won the Marconi Award for Upcoming Talent. She was also a finalist in It Takes 2, a competitive singing show. Eva looks at the world through rose-colored glasses and wants to try everything once, including joining us on our Pitch Night stage. Photo credit: Jimmy on the Run
I am Els Dejonghe
Storyteller
Els Dejonghe: a Belgian storyteller in an office. Els will publish her debut novel '18 minutes' simultaneously in 16 countries on December 19. Although she's a storyteller at heart, she wants to continue working in the office. She's here to tell you why.
I am DJ Soulfania
DJ
Hailing from Amsterdam, DJ Soulfania grew up with a lot of Soul, Rhythm & Blues, Pop, Reggae, Latin, and Surinamese music, which brings her back to her roots. Always interested in creative activities, such as singing, dancing, fashion and music, Dj Soulfiana started visiting clubs. While the DJs played, she was already mixing in the next song in her head. After getting DJ lessons from a friend, DJ Soulfania started to DJ at birthday parties for friends and family and later on, in various clubs, private parties and even abroad. The name Soulfania is a combination of her own name 'Stefania' and the soulful choice of music she plays. Her style? Think of old meets new, with a lot of soul and a good pumping (heart)beat.
I am Munganyende Hélène Christelle
Author
Munganyende Hélène Christelle is a 25-year- old writer and research journalist from the Netherlands. Born to political refugee parents from Rwanda, she calls herself a daughter of migration. In the Dutch political landscape, she has been named a promising feminist voice of her generation. Christelle lives in Brussels and is working on her debut novel. Her writing focuses on the African diaspora in Europe and celebrates everyday heroines of color.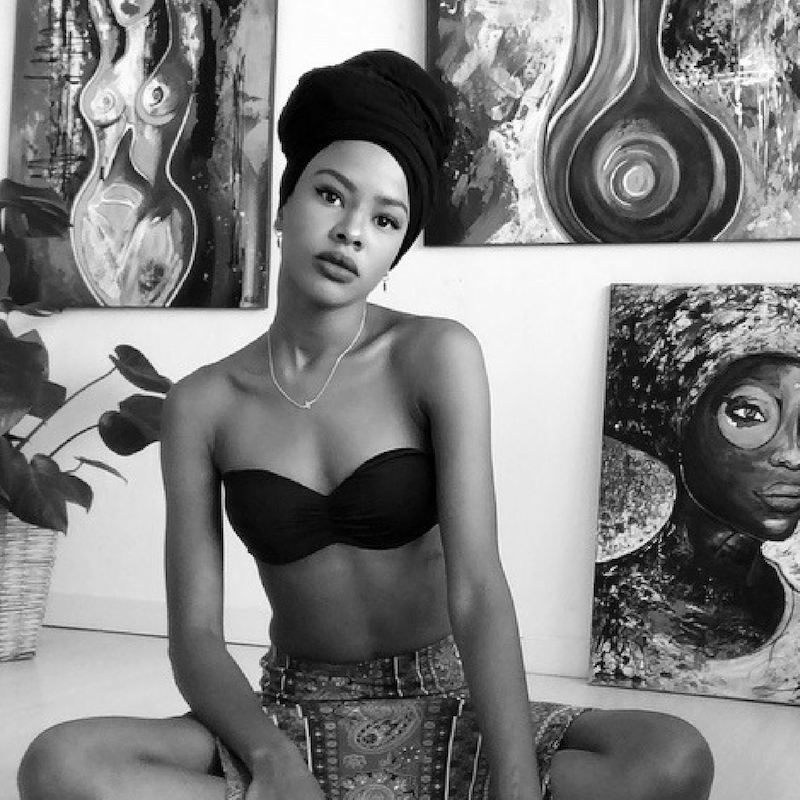 I am Rabia Omanette
Artist
Rabia Omanette is 26 (Paramaribo, 1992), mother of a son (3 years old) and devoted girlfriend of Ryan Warner (founder of Oshun Care). She is currently working on an exhibition of her own paintings, which will be opened in 2019. Her inspiration includes Afro art, flowing lines, lots of color and beautiful, strong women. Rabia also works as a fashion model. "Finding the balance and peace of mind between motherhood (which is already a full-time job), modeling, traveling, having time for myself and of course not forgetting being a devoted girlfriend can be difficult sometimes. Every creative person knows that you can't force creativity. Passion is what drives me. I dream, I want, I can, I will! My home is where the art is."
I am Jara Holdert
Singer
Singer and Songwriter Jara Holdert writes beautiful, imaginative songs with heartbreaking lyrics. Raised on the music of folk and pop heroes from the '60s and '70s, she incorporates alternate tunings, twisting chord changes and melodies reminiscent of Joni Mitchell and CSNY, into her own, very personal songs of farewell. She recorded her debut album while traveling to and from Berlin. JARA released her first EP 'Sky Collector' in the summer of 2013. This was followed by a tour through Holland and playing festivals such as Where The Wild Things Are, Valkhof and Food For Your Senses. In September 2014 she and was invited to play at the Reeperbahn festival in Hamburg with her band, where they released two new singles. JARA plays in different constellations; solo or with (some of) her band members: Jara Holdert (vocals, guitars, keys, ukulele) Bas van Holt (electric guitar, backings) Merlijn Nash (keys) Milan Pestel (drums, backings) Robin van Baaren (bass)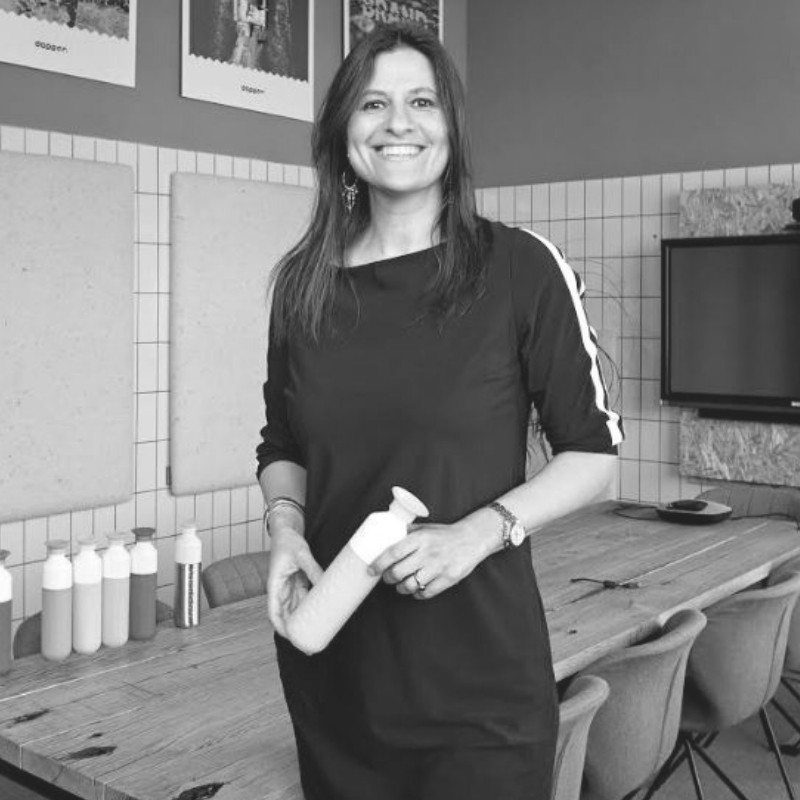 I am Virginia Yanquilevich
Keynote Speaker
Virginia Yanquilevich is the CEO of Dopper, a social enterprise with a clear mission: to achieve a world where people are conscious of the environment we live in, where the amount of single-use plastic is reduced and where everyone, near and far, has access to safe drinking water. Virginia's roots lie in Argentina but she has lived in the Netherlands for almost 20 years. With a background as a journalist and marketing and commercial management roles in consumer electronics, she now wants to create social impact through business together with the team of Dopper change makers located in Haarlem.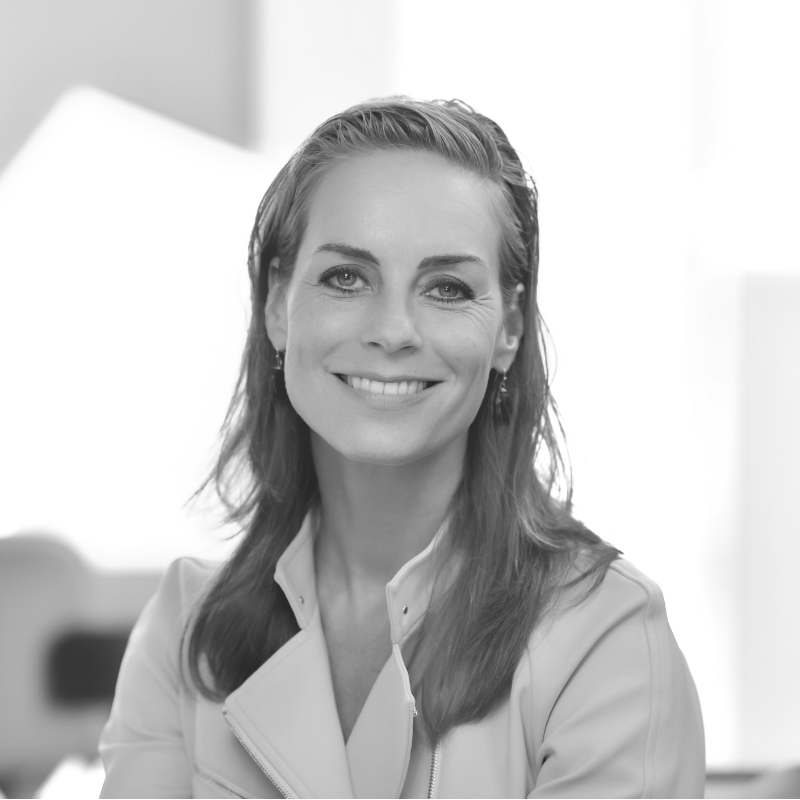 I am Dailah Nihot
Keynote Speaker
Dailah is Chief Organisation & Corporate Relations Officer and Member of the Management Board of NN Group, responsible for human resources, communications, corporate citizenship, sustainability, branding & sponsoring, public & government affairs, and facility management, with a specific focus on the company's role in society, and the relations with its key stakeholders. Before assuming her current role in 2018, Dailah served as managing director of Corporate Relations at NN Group. From 2000 to 2013, Dailah worked at ING Group, where she held the positions of Global Head of Sustainability and President of the ING for Something Better Foundation, Head of Corporate Responsibility, senior spokeswoman and strategic communications advisor. Dailah is a former member of the Novartis Global Reputation Advisory Council in Switzerland, and served on an Advisory Board for the City of Rotterdam. She is a guest speaker at the Rotterdam School of Management, and the Tuck School of Business at Dartmouth (USA). Dailah holds a Master of European Studies from the University of Amsterdam, with an internship at the United Nations. Additionally, she received an Executive Master's degree in Corporate Communication from the Erasmus University in Rotterdam, and completed leadership courses at Harvard Business school, IMD and INSEAD. She lives in Amsterdam, enjoys spending time with friends and family, and is passionate about sports, books, art, fashion, and music.
Meet the Talent Night 2018 entertainment
Talent Night is sure to inspire you - and entertain you! In addition to enjoying talks by the finalists, you will also be treated to diverse entertainment and short talks by these talented ladies: including acclaimed businesswomen, a singer, author, artist, DJ, and storyteller.