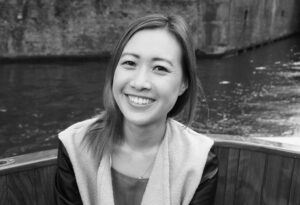 We're a pretty lively bunch here at TEDxAmsterdamWomen -- vibrant and various from marketers to writers and event organizers! What do we share in common beyond our magic charm and sparkling good looks?! We are all passionate about creating a mind-blowing and life-changing event for women. Meet Melissa Lau part of TEDxAmsterdamWomens' Social Team.
What is the biggest change, at a personal level, you've experienced to-date?
Moving to Amsterdam from Los Angeles to fulfill my dreams of immersing abroad has been one of the most significant life changes I have experienced. I came here without a job lined up, any friends in town and the last time I had been to Amsterdam was 10 years ago (it obviously left a lasting impression though!). By pushing through my comfort zone, I am learning to face uncertainty and develop a new level of confidence. 
What gap do you aspire to bridge for yourself?
Self love. Everyday I'm learning to think, say and do things more confidently.
Which words define or confine you?
"What if" are the most dangerous words that confine me, because I sometimes tend to play worst case scenarios in my mind. Persistence is what defines me though. I continue to move forward, even when I don't think I can.
Are you feminist or feminine? And why?
Both, I don't believe they are mutually exclusive. Being feminine doesn't have to mean I'm submissive, and being a feminist doesn't have to mean being overpowering.
How do you identify with this year's theme?
This year's theme resonates with me because I am learning to face my fears and initiate action plans to confront them. 
What is your favorite TED Talk and why?
This is a hard one… there are many TED Talks that have changed the way I look at something, or resonated and impacted me, so for the sake of keeping it light and fun, one of my favorite TED Talks is Tom Thum's beatbox talk. It's fun to watch, inspirational and shows how a traditionally non-traditional skill can be a profession that brings smiles and awe. 
Watch Melissa's favorite talk and why it inspired her.