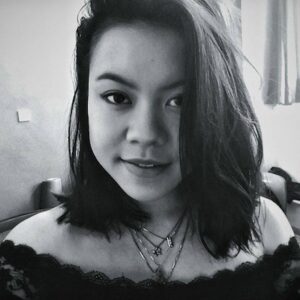 We're a pretty lively bunch here at TEDxAmsterdamWomen -- vibrant and various from marketers to writers and event organizers! What do we share in common beyond our magic charm and sparkling good looks?! We are all passionate about creating a mind-blowing and life-changing event for women. Meet Jenny Thai part of TEDxAmsterdamWomens' Social Team.
What is the biggest change, at a personal level, you've experienced to-date?
I believe the biggest change I have faced so far is having more trust and becoming more confident in myself and my skills as an overall being. There is no magic to it, just time and having many different experiences.
What gap do you aspire to bridge for yourself?
It seems to me that nowadays, we are facing a big problem in society regarding disconnection. Yes, we are connected through wires and the internet and have an entire network that we can reach within seconds just by tapping our phones. But at the same time, we are so disconnected from our surroundings and ourselves. I aspire to bridge this gap through practicing mindfulness or just by simply unplugging and switching things off now and then. At the same time, I aspire to inspire others to do the same, be it through my blog or simply having a good conversation.
Which words define or confine you?
Often, I feel very much confined by the word "Asian". It is one of the first things people use to connect with me and obviously, I do not blame them for that. I am really proud of my roots. However, next to the typical stereotypes that everyone faces on a regular basis, I have experienced a sort of ignorance where most Asians are automatically classed as a certain type (e.g. Chinese). My appearance does not reveal much about me and who I am. I am a proud Vietnamese, born and raised in Germany, studying in the UK and currently having an amazing time in the Netherlands!
Are you feminist or feminine? And why?
To probably a lot of people's surprise, I would class myself as feminine and not a feminist. The reasoning behind this is that I am a strong believer that rights should be equal for everyone, no matter what gender, age or status. However, feminism, per definition, is a movement only for women to have equal rights. I believe that, nowadays, the focus should be less on equality and more on freedom, be it freedom of speech, expression or religion which includes mutual respect and empathy.
How do you identify with this year's theme?
Words and labels have always intrigued me. We create boxes in order to organize themes and people but at the same time we are restricting ourselves through this action. Playing around with words gives us a powerful tool to think outside the box. Labels are a great tool to discover fellow people with mutual interests. But at the same time they are automatically connected to judgement – something that I would aspire to challenge and change.
What is your favorite TED Talk and why?
I must admit that this is probably the hardest question just because there are so many great talks! But when I am trying to think of a very influential one the first that comes into my mind is "The Power of Introverts" by Susan Cain. Having introverted traits in a world with extroverted standards and ideals can sometimes make things quite challenging. Being aware that this can be a normal thing and simply understanding that introverts flourish creatively in different ways can take a lot of pressure off and change our expectations and mindset. To me, the TED talk is very eye-opening as it shows that in the end, a good balance between both introverts and extroverts is the most important to reaching mutual goals and finding the best solutions.
Watch Jenny's favorite talk and why it inspired her.