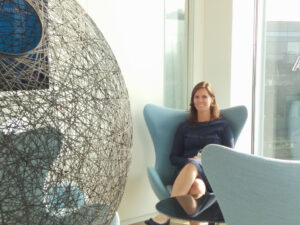 Between the polished walls of the Edge, Deloitte's headquarters in Amsterdam, Melissa Raczak has carefully carved out her own pied-à-terre. A space where experience, ambition and open-mindedness are equal partners and form the foundation of her mission. Melissa confides, "My number one purpose in life is to help women be successful in their career."
Throughout her interview with TEDxAmsterdamWomen, Melissa draws a comparison between the past and the world we inhabit today, emphasising the progress we've made. 
"If you look at history, it's phenomenal to see what has changed these last fifty, sixty, seventy years. Until the 1920's, women couldn't vote in the United States. Years ago it was common: you got married or pregnant and you were instantly fired. It was normal, no one questioned it." And yet, when someone finally questioned the system, the status quo, things started rolling. And this is where Melissa feels women can still make incredible strides. By asking questions.
The modern day 'Woman Question'
How extraordinary is it that "The Woman Question" -- the social changes in the 19th century, when the fundamental role of women in Western society was questioned -- is just as relevant in the past as it is today? The context has changed though. What was once a battle fought in the streets and factories is now in boardrooms and corporate offices. Yet, the purpose still stands with equal force and importance. As opposed to fighting for basic women's rights, including the right to vote, the battle now centers on gender perception, and equal opportunity and pay.
The battle often instills fear, and the questions it invokes -- particularly amongst women in the workplace --  is a challenge and a goal for Melissa. "I see too many women leaving the workforce before they have babies, or right afterwards. The professional services industry is demanding, and women often ask themselves, 'How can I sustain being a new mom and still be successful in this role?'" It takes a strong woman to not doubt and question her own capabilities when faced with sky-high demands in the office, the desire to be a good parent and, let's be honest, societal expectations about motherhood. And yet these questions need to be overturned!
Women shouldn't question whether they are capable but should be questioning how to change the perception of their role in society and what their company is doing to help and support them succeed.
"We work with Proudmom." Melissa explains. "I'm very happy we're investing in this organization. It really shows we want to help women who just had a baby come back and feel empowered." Proudmom provides women work-life packages to help balance their life at the office and at home to ensure they feel happy and healthy during the transformation they experience.  

Melissa also stated through her burn-out experience that her key take-away was energy management and understood what vitality really means. She is an ambassador for helping colleagues become aware of the importance of managing your energy.
Learn to play the game
Melissa shares, "Every organisation is a system and I didn't want to play the game. Until one day someone told me: 'You don't have to step into the game but you have to know, as an observer, how the game is played'. Which is when I decided I was going to learn how the game is played but I wasn't going to be one of the players." Beating the system, understanding the rules of the game and knowing how the participants think and what drives them is of crucial importance to instigate change and overturn the standards (and barriers) we live to today.
Whether it is Malala Yousafzai standing up to the Taliban, Lisa Epstein fighting her own foreclosure, or Savitribai Phule opening the first girl's school in Pune, India, women have been learning and fighting the "way the game is played" for years and are fearlessly sharing their knowledge. The same goes for Melissa. "I've been in consulting for over 20 years and I've done so much advisory work in so many different businesses.
TEDxAmsterdamWomen also helped me realise the value-add I could bring to young entrepreneurs. Things that are now basic to me are kind of eye-openers to others. I help them be successful in their business commercially, process-wise and financially. At Deloitte, I want to make an impact on women that matters.  Helping them to dare to ask, dare to try and dare to step into a new space."
Overturned by questions
Drawing from her own experience, Melissa can relate to how women are defined and confined by labels. "I was always called a Tomboy – I grew up on a street with only boys. I was one of them. And everyone said I was bitchy. I didn't want to be the bitch anymore. I wanted to be perceived as nice." But it was as simple as buying herself a new custom-made suit that shook her up. "The burnout process, which happened seven years ago, was my wake-up call." Questions like Who am I? and What is my purpose? drove Melissa. And when her tailor pointed out that she was in fact a very feminine woman, and not the tomboy people perceived her to be, Melissa's questions were answered.
The label, that once stuck to her like glue, slowly dissolved and gave way to a person with drive, unafraid to question what happens around her and with greater empathy towards and understanding of the struggle women face in her line of work. "In consulting, you build teams around you. I've almost always worked in male teams. But being able to put together my own teams, I sometimes joke 'all I have are women teams now!'"
Question… everything
Whether it is simply daring to ask a question, overturning a label that you carry or letting go of fear and judgement, every step you take is another step forward. Questioning what is considered the status quo can bring forth unknown beauty, and this year TEDxAmsterdamWomen is challenging women to go out and confront… everything. Melissa supports this challenge, "I think that it's a fundamental important task to teach young girls and help young professionals understand to invest in the right things. Create the awareness of how important it is that you don't leave it to someone else. You've got to ask yourself: Why is that important to me? And if you stay authentic in what you do - people will follow, people will believe in what you do."
As a partner of TEDxAmsterdamWomen, Deloitte is an integral part of this year's Startup Award and as one of the judges, Melissa will strive to provide participants with insight and confidence. Her advice for women entrepreneurs? "DARE - Drive and Realise Excellence!"